The Cooking Lab
EdVenture chefs make learning to cook fun with healthy benefits. In addition to learning to prepare recipes and taking home their creations, participants learn about diet and good food choices. See how our EdVenture Chefs are involved in the community!
Questions?
Ashley Hutto, ahutto(at)edventure.org
Kenny Smith, ksmith(at)edventure.org
Supported by:
Aflac
Lipscomb Family Foundation
Maximus Foundation
Novo Nordisk
United We Eat
---
---
​Peach Cobbler, a Sweet Treat from Georgia!
Peach Cobbler, a Sweet Treat from Georgia!
Cobblers were never meant to be pretty. Emerging as a makeshift version of the ever-popular pie recipe circulating Europe and the United States in the 1800s, this dessert was 'cobbled' together by the early American settlers using fruit – usually preserved, canned, or dried – and clumps of biscuit dough before baking it over an open fire.
During the early years of European settlement, many Dutch and English immigrants brought traditional pie recipes with them to the New World, adapting to what was available to them in America. As settlers moved westward in the early 19th century, access to fruit – peaches, plums, cherries – typically grown on the East Coast became increasingly more difficult. And while recipes for pie had circulated throughout the lands, travelers on the road had to make do with what they had: dried, canned, or syrup-preserved fruit, chemically leavened dough (using baking powder), and an open fire.
The cobbler is said to have been an improvisation of the much-loved pie into a trail-modified dessert. Fruit, however it came, was dumped into a Dutch oven, topped with globs of biscuit dough, and baked over an open fire until golden brown. Cobblers were quickly integrated into the settler diet, many choosing to eat the sweet dish for breakfast, as a first course, or as a main dish – it wasn't until the late 19th century that the cobbler was officially labeled as a dessert.
Peach cobbler is believed to have come together in the same way as the first cobblers did: fruit, dough, and an open fire. Today, peach cobbler is a traditional dessert served in the Deep South, usually accompanied by a scoop of vanilla ice cream.
By the 1950s, peach cobbler had become an American dessert staple, and in an effort to sell more canned peaches, the Georgia Peach Council declared April 13th National Peach Cobbler Day.
Source: Theculturetrip.com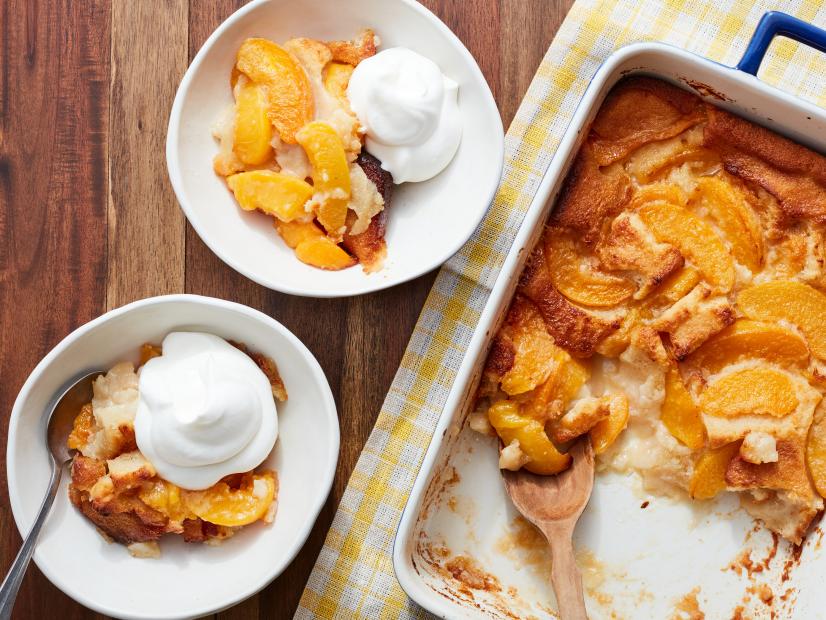 Easy Peach Cobbler Recipe
Easy Peach Cobbler
Ingredients
Two 15-ounce cans sliced peaches in syrup OR fresh sliced peaches
1/2 cup (1 stick) butter
1 cup self-rising flour
1/2 cup sugar
1 cup milk
1 tsp vanilla extract
2 cups whipping cream, chilled in the fridge
4 tablespoons powdered sugar
Instructions
Preheat the oven to 350 degrees F.
Drain 1 can of peaches; reserve the syrup from the other. Place the butter in a 9- by 12-inch ovenproof baking dish. Heat the butter on the stove or in the oven until it's melted. In a medium bowl, mix the flour and sugar. Stir in the milk and the reserved syrup. Pour the batter over the melted butter in the baking dish. Arrange the peaches over the batter. Bake for 1 hour. The cobbler is done when the batter rises around the peaches and the crust is thick and golden brown. Serve warm with fresh whipped cream.
Homemade Whipped Cream:
Yield: 4 cups
Chill a large metal mixing bowl and the wire beater attachment in the freezer for about 20 minutes. Pour the chilled cream and sugar into the cold mixing bowl and beat until it forms soft peaks, about 5 minutes. The mixture should hold its shape when dropped from a spoon. Don't overbeat or you'll have sweetened butter!
---
Creamy Honey Mustard Recipe
Creamy Honey Mustard
Prep Time: 4 mins
Cook Time: 1 min
Yield: 3/4 cup sauce
DESCRIPTION
5 Minute Honey Mustard Sauce – just 5 ingredients to this smooth and creamy dipping sauce that can double as a dressing! So simple and delicious!
INGREDIENTS
1/4 cup Wholesome! organic honey
1/4 cup mayonnaise
1/4 cup Dijon mustard
1 tablespoon white distilled vinegar
1/4 teaspoon cayenne pepper
INSTRUCTIONS
Whisk all ingredients in a small dish until smooth.
Air Fryer Hush Puppies Recipe
Air Fryer Hush Puppies
Forget about deep frying and give your hush puppies a light update using an air fryer.
Prep:10 mins
Cook:10 mins
Additional: 5 mins
Total: 25 mins
Servings: 12
Yield: 12 hush puppies
INGREDIENTS
1 nonfat cooking spray
1 cup yellow cornmeal
¾ cup all-purpose flour
1 ½ teaspoons baking powder
½ teaspoon salt
¼ teaspoon cayenne pepper, or more to taste
¼ teaspoon garlic powder
2 tablespoons minced onion
2 tablespoons minced green bell pepper
¾ cup low-fat buttermilk
1 large egg
DIRECTIONS
Step 1: Preheat an air fryer to 390 degrees F (198 degrees C) according to manufacturer's instructions. Line the bottom of the air fryer basket with aluminum foil and spray with nonfat cooking spray.
Step 2: Stir cornmeal, flour, baking powder, salt, cayenne, and garlic powder together in a large bowl. Mix in onion and bell pepper.
Step 3: Whisk buttermilk and egg together in a separate bowl. Stir into cornmeal mixture. Let mixture rest for 5 minutes.
Step 4: Drop cornmeal mixture into the foil-lined basket using a 2-tablespoon cookie scoop, making sure not to have them touching each other. Coat with nonfat cooking spray.
Step 5: Cook in the preheated air fryer until golden brown, crispy, and cooked through, 9 to 10 minutes. Serve hot.
---
Cheesecake: from Ancient Roots to NYC
Cheesecake: from Ancient Roots to NYC!
Ever since the dawn of time, mankind has always strived to create the perfect cheesecake! The earliest history of cheesecake is lost but we do know that cheesecake was already a popular dish in ancient Greece. With the Roman conquest of Greece, the secret fell into Roman hands. The Romans named this dish "libum" which was often used as an offering at the temples to their gods.
In the 1st Century A.D. Marcus Porcius Cato was a Roman politician. He penned a treatise call De Re Rustica which detailed farming, wine making, and cooking among other things. Hidden within it was his recipe for libum which was made as follows:
2 pounds cheese well crushed in a mortar;
2 pounds cheese well crushed in a mortar; when it is well crushed, add in 1-pound bread-wheat flour or, if you want it to be lighter, just 1/2 a pound, to be mixed with the cheese. Add one egg and mix all together well. Make a loaf of this, with the leaves under it, and cook slowly in a hot fire under a brick.
Small cheesecakes were also served to athletes during the first Olympic Games held in 776 B.C. on the Isle of Delos!
New York cheese is a cheesecake made with no fancy ingredients added either to it or placed on top of it is. It is simply made with pure cream cheese, cream, eggs, and sugar. Everybody has a certain image of New York Style Cheesecake. According to New Yorkers, only the great cheesecake makers are located in New York, and the great cheesecake connoisseurs are also in New York. In the 1900s, cheesecakes were very popular in New York. Every restaurant had their version.
1929 – Arnold Reuben, owner of the legendary Turf Restaurant at 49th and Broadway in New York City, claimed that his family developed the first cream-cheese cake recipe. Other bakeries relied on cottage cheese. According to legend, he was served a cheese pie in a private home, and he fell in love with the dessert. Using his hostess recipe and a pie she made with ingredients he provided, he then began to develop his own recipe for the perfect cheesecake. Reuben soon began to serve his new recipe in his Turf Restaurant, and the cheesecake quickly became very popular with the people who frequented Reubens Broadway restaurant.
Source: https://whatscookingamerica.net
Easy Cheesecake Dip Recipe
Cheesecake Dip
Ingredients
4 ounces cream cheese, softened
1/4 cup sour cream
3 tablespoons confectioners' sugar
1 tablespoon whole milk
1/4 teaspoon almond extract
1 pint fresh strawberries
1/4 cup graham cracker crumbs
Instructions
In a bowl, beat cream cheese until smooth. Add the sour cream, sugar, milk and extract; mix until smooth. Transfer to a serving bowl.
Place the strawberries and crumbs in separate serving bowls. Dip strawberries into cheesecake mixture, then into crumbs.
---
Midwest Turkey Chili Recipe
Midwest Turkey Chili
Ingredients
1 ½ teaspoons olive oil
1 pound ground turkey
1 onion, chopped
2 cups water
1 green pepper, chopped
1 cup sweet potatoes chopped
1 (28 ounce) diced tomatoes
1 (28 ounce) can canned crushed tomatoes
1 (16 ounce) can canned kidney beans - drained, rinsed, and mashed
1 tablespoon garlic, minced
2 tablespoons chili powder
½ teaspoon paprika
½ teaspoon dried oregano
½ teaspoon ground cayenne pepper
½ teaspoon ground cumin
½ teaspoon salt
½ teaspoon ground black pepper
*Great additions* Cheese, sour cream, and crackers
Directions
Heat the oil in a large pot over medium heat. Place turkey in the pot and cook until evenly brown. Stir in onion and cook until tender.
Pour water into the pot. Mix in tomatoes, kidney beans, and garlic. Season chili powder, paprika, oregano, cayenne pepper, cumin, salt, and pepper. Bring to a boil. Reduce heat to low, cover, and simmer 30 minutes.
---
California Mushroom Burger
Ingredients
1 lb portobello mushrooms or your choice of variety, chopped (about 6 cups)

1 large sweet onion, diced

3 cloves of garlic, minced

1 can black beans, drained, rinsed, half smashed

1 cup instant brown rice, cooked

3 eggs, beaten

2 tbsp Worcestershire sauce

1 ½ cup Italian breadcrumbs, fine or panko

1 cup Parmesan cheese

1 tsp ground thyme

1 tsp ground mustard

1 tsp granulated garlic powder

1 tsp smoked paprika

½ tsp ground sage

½ sea salt and pepper

4 tbsp unsalted butter

*1 tsp chili paste, optional

* cheese of your choice for topping, optional.

*Use burger buns of your choice and our recommended topping for a truly tasty veggie burger! Avocado, lettuce, ripe tomatoes, melted cheese, sprouts and grilled onions are always great choices.
Instructions
In a large skillet over medium high heat, melt 2 tbsp butter. Add diced onion and sauté until softened and translucent, about 5 minutes. While onions are cooking, chop mushrooms caps and stems. Add mushrooms and garlic to pan with onions. Add salt to help drawn moisture and cook an additional 5 or 6 minutes until reduced in size. Increase heat to high, keeping a close eye on the mixture and constantly stirring. When most of the moisture is cooked off, remove from heat.

In a large bowl, add mushroom mixture, black beans, rice, eggs, breadcrumbs, Parmesan cheese, seasonings and optional chili paste. Reserve ½ cup of breadcrumbs for pan frying. Allow to cool in fridge uncovered for 15-20 minutes.

When mixture has cooled, scoop ½ cup of burger mixture and form into patties. Burger mixture will be very very soft, if it's too hard to form into patties and you are experiencing it not staying together, add a bit more seasoned breadcrumbs until desired consistency is achieved. Use reserved breadcrumbs to coat each side of the patty.

Melt remaining 2 tbsp of butter into a large skillet. Place 4 patties at a time over medium high heat. Cook 3-4 minutes per side, flipping once. If adding cheese, place cheese on burger patty once you have flipped.

Enjoy on burger buns with your favorite toppings! Suggested sides: grilled veggies, pasta salad, or sweet potato fries.
---
Maryland Crab Cakes
Prep Time: 40 minutes
Cook Time: 15 minutes
Total Time: 55 minutes
Yield: 6 large crab cakes
Ingredients
1 large egg
1/4 cup (60g) mayonnaise
1 Tablespoon chopped fresh parsley (or 2 teaspoons dried)
2 teaspoons Dijon mustard
2 teaspoons Worcestershire sauce
1 teaspoon Old Bay seasoning (up to 1 and 1/2 teaspoons for a spicier kick)
1 teaspoon fresh lemon juice, plus more for serving
1/8 teaspoon salt
1 pound fresh lump crab meat
2/3 cup Panko breadcrumbs
Instructions
Whisk the egg, mayonnaise, parsley, Dijon mustard, Worcestershire sauce, Old Bay, lemon juice, and salt together in a large bowl.
Add crab meat and breadcrumbs. With a rubber spatula or large spoon, very gently and carefully fold together. You don't want to break up the crab meat!
Cover tightly and refrigerate for at least 30 minutes.
Make hand sized patties of the crab mixture
Heat butter and oil mixture in a frying pan on medium heat. Gently place crab cakes into pan. Pan fry on each side for 3 minutes.
Squeeze fresh lemon for taste
Healthy Garlic Aioli
Ingredients
1 cup plain Greek yogurt
2 cloves minced garlic
1 tablespoon garlic paste
1 tablespoon lemon zest
¼ cup fresh lemon juice
Salt to taste
Directions
In a small bowl, Stir all ingredients together.
Let chill for 30 minutes prior to serving
---
Hawaiian Banana Bread Recipe
Hawaiian Banana Bread
Ingredients:
2 cups mashed bananas
1½ cups canola oil
1 Tbsp vanilla extract
2 tsp coconut extract
1 (8-oz) can crushed pineapple, drained
3 cups all-purpose flour
2 cups sugar
1 tsp baking soda
1 tsp salt
1½ tsp cinnamon
*1 cup chopped pecans
1 cup shredded sweetened coconut
¼ cup turbinado sugar
*optional
Instructions:
Preheat oven to 350ºF. Spray two 9×5-inch loaf pans with cooking spray,
In a large bowl, whisk together eggs, bananas, oil, vanilla, coconut extract, and drained pineapple.
Add flour, sugar, baking soda, salt, and cinnamon to the bowl. Stir well. Stir in pecans and coconut.
Pour batter into prepared loaf pans. Sprinkle batter with turbinado sugar.
Bake for 1 hour and 15 minutes. Cool in pans on wire racks for 10 minutes.
Remove bread from pans and place on wire rack. Cool completely before cutting.
---
Shrimp Tacos with Mango Salsa
Prep Time: 15 minutes
Cook Time: 10 minutes
Total Time: 25 minutes
INGREDIENTS
For the shrimp
2 tsp olive oil
1 ¼ lbs. shrimp peeled, deveined and tails removed
chili powder and salt to taste
For the mango salsa
1 cup mango finely diced
½ cup red bell pepper finely diced
½ jalapeño pepper minced (remove seeds and ribs to make it milder)
½ cup diced cucumber
½ cup diced pineapple
½ cup cilantro leaves finely chopped
1 juice of 1 lime
For the creamy cilantro lime sauce
1 cup sour cream (can use light)
½ cup cilantro leaves roughly chopped
2 tsp lime juice
1 ½ tsp honey
¼ cup Verde salsa
salt and pepper to taste
For assembly
1 cup shredded purple cabbage
8 corn or flour tortillas
INSTRUCTIONS
For the shrimp: Heat the olive oil over high heat in a large pan. Season both sides of the shrimp with chili powder and salt to taste. Place the shrimp in a single layer in the pan and sear for 2-3 minutes per side, until shrimp are pink and cooked through.
For the mango salsa: Combine all the ingredients in a bowl, add salt to taste. Cover the bowl and place it in the refrigerator for at least 15 minutes, up to 4 hours.
For the creamy cilantro sauce: Place all ingredients in the food processor; process until sauce is smooth and creamy. Add salt and pepper to taste.
To serve: Warm the tortillas. Add a spoonful of sauce, a handful of cabbage and place the shrimp on top of the cabbage.
Top with mango salsa and serve immediately.
---
Southern Buttermilk Biscuits Recipe
Southern Buttermilk Biscuits
Ingredients
2 tablespoons baking powder
1 teaspoon salt
½ cup cold butter thinly sliced
1 cup cold buttermilk
Instructions
Preheat oven to 425°F.
In a large mixing bowl, whisk together flour, baking powder, and salt.
Add butter and cut in with a pastry blender until pea-size clumps form.
Create a well in the center of the mixture by pushing the mixture toward the sides of the bowl. Pour buttermilk into the well. Mix gently with a fork until JUST combined. (Over mixing will make tough biscuits!)
Turn the dough out onto a floured surface and create a rectangle using your hands.
Fold the dough into thirds (like folding a letter). (Fold left side over center, then right side, so it's still in a rectangular shape.) Then roll back out to 1-inch thick. Repeat the folding and rolling process twice more, Rolling the dough out to 1/2" thick on the final time.
Cut out about 12 biscuits with a 2 1/2"-3" cutter. Re-roll any scraps until there's about 10-12 biscuits.
Transfer biscuits to a baking sheet so that the biscuits are touching each other and the edge. Brush tops of unbaked biscuits with buttermilk or melted butter for crispier edges.
Bake at 425° for about 13-15 minutes until cooked through and golden brown on top.
Cinnamon Honey Butter Recipe
Cinnamon Honey Butter
Ingredients
¼ cup powdered sugar
1 tbsp honey
½ tsp pure vanilla extract
1 ½ tsp ground cinnamon
1/8 tsp sea salt
Instructions
Serve at room temperature on your favorite bread or breakfast food (biscuits, pancakes, waffles, etc.)!
Store in an airtight container in the refrigerator for up to one month, or at room temperature for up to 1 week.
---
Southwest Turkey Burgers Recipe
Ingredients
8 slices turkey bacon or turkey bacon with black pepper or applewood smoked bacon
1 1/3 pounds ground turkey breast, the average weight of 1 package
2 cloves garlic, finely chopped
1 large shallot or 1/4 red onion, finely chopped
2 tablespoons chopped fresh thyme leaves or 1 teaspoon dried thyme leaves
2 tablespoons chopped fresh cilantro leaves, optional - parsley may be substituted
1/2 small bell pepper, green, red or yellow, seeded and finely chopped
1 serrano or jalapeno pepper, seeded and finely chopped
2 teaspoons, 2/3 palm full, ground cumin
1 to 2 teaspoons cayenne hot sauce, several drops (recommended: Tabasco)
2 teaspoons grill seasoning blend (recommended: Montreal Steak Seasoning by McCormick)
Vegetable oil or olive oil, for drizzling
1/2 pound deli sliced pepper jack cheese
4 crusty kaiser rolls, split
Red leaf lettuce

Directions
Chop your garlic and veggies.
Cook bacon in a large nonstick skillet over medium high heat until crisp. Wipe excess grease from pan and return skillet to heat.
While bacon cooks, combine turkey meat, garlic, shallot or onion, thyme, cilantro or parsley, bell pepper, serrano or jalapeno pepper, cumin, hot pepper sauce, grill seasoning or salt and pepper. Divide mixture into 4 equal mounds then form meat into patties. Drizzle patties with vegetable oil to coat. Cook in skillet over medium high heat for 5 to 6 minutes on each side. Place sliced cheese over the patties in the last 2 minutes of cooking, use 1 or 2 slices for each patty, as you like.
Pile cooked cheeseburgers into buns. Set red leaf lettuce into place. Top cheeseburgers with 2 slices of cooked, crisp bacon or turkey bacon and lettluce. Then serve with tortilla chips, and tossed salad.
---